New in Applications Manager: Improved java transaction monitoring, iPhone app & more
June 20, 2012
No Comments
SOURCE: ManageEngine
We had two releases back-to-back last month with versions 10.4 and 10.5 coming out. And what's new in these releases? Well, web transaction monitoring just got way better. And we have leveraged the mobile web to provide performance management for your applications.
So, what exactly have we changed with release 10.4?
Applications Manager's Java Web Transaction Monitor just got a makeover, and a new name.
Introducing APM Insight (for Java) – which gives you unmatched visibility into J2EE web transactions, user satisfaction measurements with Apdex scores, transaction traces and performance metrics of all Java/ J2EE components starting from EJB to URLs to SQL queries. And all this is combined with better troubleshooting capabilities.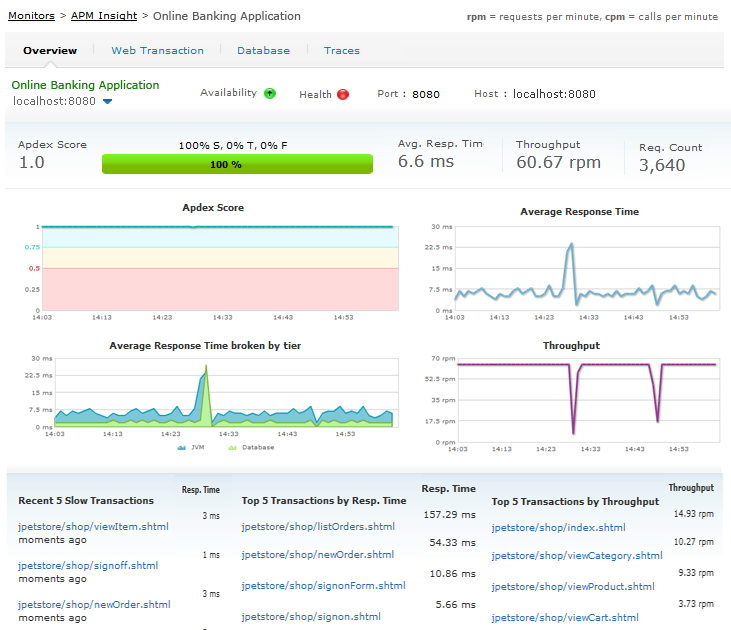 Mobile Web Client – A must-have solution to perform application management on the go.
Optimized for most types of smartphones, our mobile web client provides you with a convenient method to track critical applications, perform actions, receive alerts and identify issues easily from any location.
The Mobile Web Client's functionality includes -
Easy access to availability and health status of applications.
Quicker navigation to find relevant information.
Real-time alerts.
Ability to take corrective actions and acknowledge alarms.
And with Release 10.5,
iPhone App – Our native application for iOS-based devices.
Sure, the iPhone is a cool device to have for business. Now with it, you get round- the-clock visibility of your business application right in your pocket. No more desktop bondage.
The iPhone App's features -
Ability to track the availability and health status of all your Applications Manager monitors.
Get timely notifications for critical and warning alarms.
Track the 'outages' instantly and ensure minimal resolution time.
Get push notifications for health and availability related alerts.
To know about all the other neat monitoring enhancements included both the 10.4 and the 10.5 releases go to our What's New page.
Blogs, Featured Blogs