Nutanix Announces Validated Support for the VMware Branch Office Desktop
October 22, 2012
No Comments
SOURCE: Nutanix
VMworld© Europe – Nutanix (www.nutanix.com), a provider of scalable software-defined compute and storage appliance for virtualization and VMware workloads, today announced the Nutanix Complete Cluster as a validated solution for the VMware Branch Office Desktop. Nutanix is a platform for secure, easy to manage, high-performance desktop and application delivery, in an easy to deploy, highly available and scalable appliance for the VMware Branch Office Desktop.
Complexity can be a challenge for many office desktop deployments. Branch offices need to deploy highly available infrastructure that can grow with the company; a traditionally complex IT problem. The Nutanix Complete Cluster with VMware Branch Office Desktop can simplify infrastructure complexity by converging server and storage infrastructure into an easily deployed, highly available appliance that can modularly scale without sacrificing performance as the environment changes.
With nearly 11 million branch offices distributed across the globe, centralizing the management of these environments through desktop virtualization is a way to ensure better levels of security, compliance and cost reduction. Now, with Nutanix Complete Cluster with VMware Branch Office Desktop, businesses are empowered to tackle this challenge.
"The Nutanix Complete Cluster with VMware Branch Office Desktop enables IT organizations to address challenges in the branch office, with an easy to deploy and easy to manage solution that can enhance reliability and security," said Mason Uyeda, director, Technical and Solutions Marketing, End User Computing, VMware.
Nutanix with the VMware Branch Office Desktop is an Enterprise Branch Office in a Box that uniquely provides:
+ Simple Deployment. With everything pre-installed in the Nutanix appliance, branch office infrastructure can be up and running in 30 minutes.
+ Unified Management – Use VMware vCenter™ Server to manage the combined solution. Nutanix eliminates the need for traditional separate storage & server infrastructures, which can be difficult to manage and scale in a remote location.
+ High-Availability – Nutanix is a purely distributed system, both from a network, compute and data standpoint. Coupled with VMware vSphere© availability features (HA/FT) and redundant networking, the solution ensures user data always remain available and delivers consistent user experience.
+ Consistent Performance at Scale – The Nutanix Complete Cluster with VMware Branch Office Desktop allows businesses to start small and modularly scale their environment as the branch office grows, all without impacting performance. As desktop or capacity needs grow, Nutanix scales in simple single node increments, simplifying planning challenges with growth in branch offices.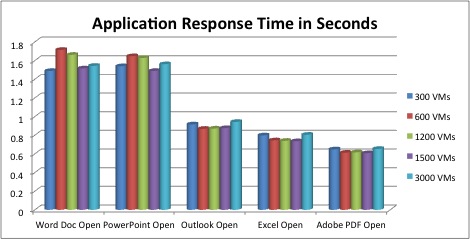 Performance benchmark from Nutanix Colossus White Paper
"Companies running VMware Branch Office Desktop on Nutanix can enjoy what is effectively a branch office in a box. They get their environments up and running quickly while retaining the ability to seamlessly scale both compute and data as their needs grow," said David Lawler, V.P. of Marketing at Nutanix. "This just-in-time infrastructure has been sought after in the virtual desktop space and helps our customers maximize efficiency and avoid previous VDI challenges faced," continued Lawler.
Nutanix Complete Cluster with VMware Branch Office Desktop provides a comprehensive and cost-effective approach to managing multiple requirements within branch office environments. The combination of VMware Mirage™ for image management/disaster recovery and VMware View© deployed on the Nutanix Complete Cluster enables effective delivery of virtual desktops and applications in a highly-available 2U appliance that can scale with performance linearly.
About Nutanix
Nutanix (www.nutanix.com) is the first company to offer a radically simple compute and storage infrastructure for implementing enterprise-class virtualization without complex and expensive external network storage (SAN or NAS). Founded in 2009 by a team that built scalable systems such as Google File System and enterprise-class systems such as Oracle Database/Exadata, Nutanix is based in San Jose, California, and is backed by Lightspeed Venture Partners, Khosla Ventures, Goldman Sachs, Battery Ventures, and Blumberg Capital.
Nutanix and Nutanix Complete Cluster are trademarks of Nutanix Inc. Other marks mentioned herein are trademarks that are proprietary to other companies.
VMware, VMware vCenter, VMware vCloud, VMware Mirage and VMware vSphere are registered trademarks and/or trademarks of VMware, Inc. in the United States and/or other jurisdictions. The use of the word "partner" or "partnership" does not imply a legal partnership relationship between VMware and any other company.
# # #
Press Contacts:
Sarah Reynolds
Media Relations, Nutanix
Phone: 408.569.2157
Email:
pr@nutanix.com
Twitter:
@nutanix