Teradata Expands Integrated Analytics Portfolio
March 7, 2012
No Comments
SOURCE:  Teradata
SAN DIEGO, Calif. — Based on increased customer demand for faster performance, a wider variety of business intelligence applications, and self-service analytics, Teradata (NYSE: TDC), the world's leading analytic data solutions company, today announced the continued expansion of Teradata Integrated Analytics portfolio. The expansion includes a new partnership with Revolution Analytics, and new offers from existing analytic partners. The Teradata Integrated Analytics portfolio improves customers' ability to make the best decision possible based on robust high-speed, in-database analytics platform.
"Traditional analytic platform vendors that offer a single "one-size-fits-all" solution to meet all intelligence needs across the organization do a disservice to businesses struggling to use data as a competitive asset in this tough economy," said Scott Gnau, president, Teradata Labs, Teradata. "Teradata is committed to superior solutions that allow customers to lead with competitive advantage."
Teradata Integrated Analytics provides a broad spectrum of high-performance capabilities in a well-orchestrated environment enabling customers to leverage massive volumes of data, in a variety of formats, which moves at high velocity. Teradata offers customers the ability to leverage new data types, emerging analytic technologies, best-of-breed partner tools, and the integration of the leading analytics. This capability is powered by superior performance of Teradata's in-database processing running on its proven purpose-built hardware platforms.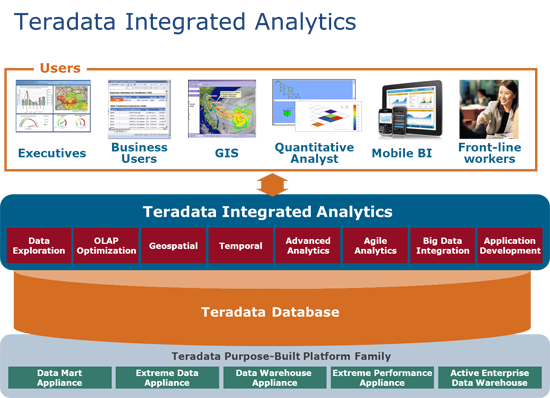 The Teradata Integrated Analytics Portfolio offers customers a unique and robust set of components that simplifies analytics and support enterprise intelligence.
Relevant Links
About Teradata
Teradata (NYSE: TDC) is the world's leading analytic data solutions company focused on integrated data warehousing, big data analytics, and business applications. Teradata's innovative products and services empower organizations to integrate, analyze and profit from data for competitive advantage. Visit teradata.com for details.
DATA and ANALYTICS , News, OPEN SOURCE